Islam provides excellent instructions to tackle the problem of POVERTY. Though, ZAKAH was made compulsory in 2 Hijrah as the ultimate solution for this issue. However, the issue of poverty had been taken care of since inception of Islam. Revelations at Makkah clearly indicates the importance of this issue, and excellent solution there of.
MEASURES TAKEN AT MAKKAH
This specific problem of society was addressed since the advent of Islam. Though initially, those who were accepting Islamic faith were poor and deprived of the bare minimum need of life. Muslims were not having their Govt. or any political power. In this precarious condition, Muslims were advised for sacrifice and to feed the poor and needy.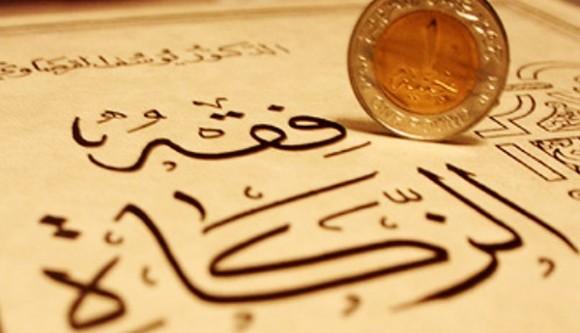 -FEED THE POOR IS PART OF IMAAN
In Surah Mudassir, which was among the initial revelations, a scene of Akhirah was narrated. In reply to the question of Muslim, infidels replied why they have been thrown into the hell fire.
They will say: "We were not of those who prayed; "Nor were we of those who fed the indigent; 74:43-44
As feeding the poor is necessary, so important is to take care of other needs like house and necessities of life. The matter is indicated while narrating the happening with "PEOPLE OF GARDEN" IN Surah Qalam.
Then there came on the (garden) a visitation from thy Lord, (which swept away) all around, while they were asleep.So the (garden) became, by the morning, like a dark and desolate spot, (whose fruit had been gathered).As the morning broke, they called out, one to another, "Go ye to your tilth (betimes) in the morning, if ye would gather the fruits." So they departed, conversing in secret low tones, (saying)- "Let not a single indigent person break in upon you into the (garden) this day." And they opened the morning, strong in an (unjust) resolve. But when they saw the (garden), they said: "We have surely lost our way: "Indeed we are shut out (of the fruits of our labour)!" 68:19-27
-PURSUATION FOR THE POOR & NEEDY
At Makkah, Quran not only instructed to give the poor and needy but also to pursue others for this noble cause.
"This was he that would not believe in Allah Most High."And would not encourage the feeding of the indigent! 69:33-34
This revelation so affected Abu-Dardah (RA), that he told his wife that, "Allah has created a chain which is being heated in the hell fire and will be fastened in the neck of the people on the day of Qiyamah. 50% we will be relieved owing to our Imaan and rest 50% requires persuasion to feed the poor. So pursue others to feed the poor. Kitab-ul-Amwal page 350
No other revealed book other than Quran have ever taught to pursue to feed the poor. Allah warned the people of the dark age, who are the claimant of followers of Din-e-Abrahimi in Surah Fajr.
Nay, nay! but ye honour not the orphans! Nor do ye encourage one another to feed the poor! 89:17-18
Nay, nay! but ye honour not the orphans! Nor do ye encourage one another to feed the poor! 107:1-3
Again explaining the characteristic of those who deny the Day of Judgment, Allah says:
Who are neglectful of their prayers, Those who (want but) to be seen (of men), But refuse (to supply) (even) neighbourly needs. 107:5-7
That is they do not pray properly and not behave appropriately with the Allah's creature.
-RIGHT OF THE POOR & NEEDY
Allah expresses the characteristics of the pious & piety person :
And in their wealth and possessions (was remembered) the right of the (needy,) him who asked, and him who (for some reason) was prevented (from asking). 51:19
That is the wealth of the pious person is not their own property but there is a definite share of the needy persons in that.
And those in whose wealth is a recognized right. For the (needy) who asks and him who is prevented (for some reason from asking); 70:24-25
And render to the kindred their due rights, as (also) to those in want, and to the wayfarer: But squander not (your wealth) in the manner of a spendthrift. 17:26
So give what is due to kindred, the needy, and the wayfarer. That is best for those who seek the Countenance, of Allah, and it is they who will prosper. 30:38
-RIGHT OF POOR IN THE PRODUCTS
It is He Who produce the gardens, with trellises and without, and dates, and tilth with produce of all kinds, and olives and pomegranates, similar (in kind) and different (in variety): eat of their fruit in their season, but render the dues that are proper on the day that the harvest is gathered. But waste not by excess: for Allah loveth not the wasters. 6:141
The right of the poor is due in the day of harvesting itself.
-PAYMENT OF ZAKAH AT MAKKAH
That which ye lay out for increase through the property of (other) people, will have no increase with Allah. but that which ye lay out for charity, seeking the Countenance of Allah, (will increase): it is these who will get a recompense multiplied.30:39
Those who establish regular prayers and give in regular charity, and also have (full) assurance of the hereafter.27:3
Say thou: "I am but a man like you: It is revealed to me by Inspiration, that your Allah is one Allah. so stand true to Him, and ask for His Forgiveness." And woe to those who join gods with Allah,- Those who practise not regular Charity, and who even deny the Hereafter. 41:6-7
-COMMANDMENDS OF ZAKAT IN MADANI SURAH
And be steadfast in prayer and regular in charity: And whatever good ye send forth for your souls before you, ye shall find it with Allah. for Allah sees Well all that ye do. 2:110
….but if they repent, and establish regular prayers and practise regular charity, then open the way for them: for Allah is Oft-forgiving, Most Merciful. 9:5
But (even so), if they repent, establish regular prayers, and practise regular charity,- they are your brethren in Faith: (thus) do We explain the Signs in detail, for those who understand. 9:11
-ALLAH DENIES ACCEPTANCE OF NAMAZ WITHOUT ZAKAH
The mosques of Allah shall be visited and maintained by such as believe in Allah and the Last Day, establish regular prayers, and practise regular charity, and fear none (at all) except Allah. It is they who are expected to be on true guidance.9:18
-WARNING TO THOSE PEOPLE WHO ACCUMULATE GOLD AND SILVER AND DO NOT PAY THE RIGHTS OF THE POOR
O ye who believe! there are indeed many among the priests and anchorites, who in Falsehood devour the substance of men and hinder (them) from the way of Allah. And there are those who bury gold and silver and spend it not in the way of Allah. announce unto them a most grievous penalty-
On the Day when heat will be produced out of that (wealth) in the fire of Hell, and with it will be branded their foreheads, their flanks, and their backs – "This is the (treasure) which ye buried for yourselves: taste ye, then, the (treasures) ye buried!" 9:34-35
-CLOSENESS OF ALLAH (SWT) & PROPHET MOHAMMAD (PBUH) IS NOT POSSIBLE WITHOUT PAYING ZAKAH
Your (real) friends are (no less than) Allah, His Messenger, and the (fellowship of) believers,- those who establish regular prayers and regular charity, and they bow down humbly (in worship). 5:55
40. (They are) those who have been expelled from their homes in defiance of right,- (for no cause) except that they say, "our Lord is Allah.. Did not Allah check one set of people by means of another, there would surely have been pulled down monasteries, churches, synagogues, and mosques, in which the name of Allah is commemorated in abundant measure. Allah will certainly aid those who aid his (cause);- for verily Allah is full of Strength, Exalted in Might, (able to enforce His Will).
41. (They are) those who, if We establish them in the land, establish regular prayer and give regular charity, enjoin the right and forbid wrong: with Allah rests the end (and decision) of (all) affairs. 22:40-41